Meal Deals and Dining Specials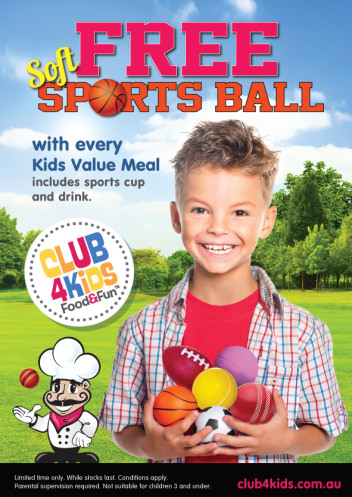 JANUARY SCHOOL HOLIDAY GIVEAWAY!
We've got something special for the kids these summer school holidays!
Bring the kids in this January and receive a FREE soft kid's sports ball with every Kids Value Meal purchased.
Kids Value Meal includes Kids Meal, Sports Cup and drink. Limited time only. While stocks last. Parental supervision required. Not suitable for children 3 and under.
Saturday 14th February 2015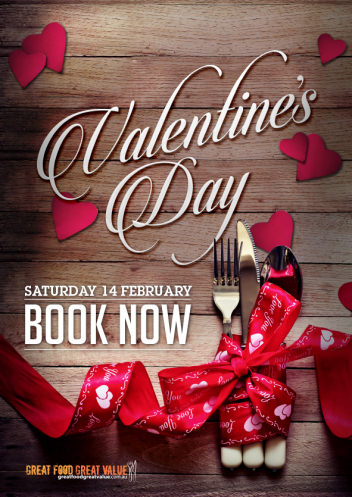 Book Now For Valentine's Day
Saturday 14th February
Valentine's Day is on the way so get in early and book your romantic date for two today.
Conditions apply. Bookings are essential. Not available with any other offer. See staff for details.
Sat, Sun & Public Holidays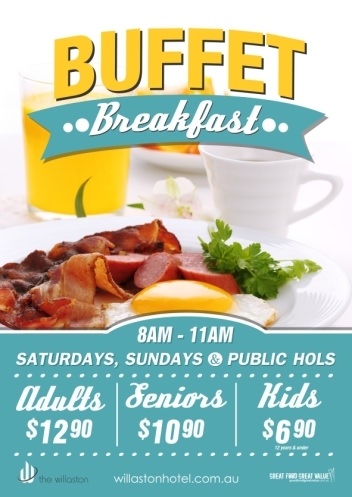 Buffet Breakfast
Come and enjoy our Buffet Breakfast available every Saturday and Sunday and public holidays.
Breakfast is served from 8am to 11am.
Adults $12.90
Child $6.90
Seniors $10.90
Conditions apply. See staff for details.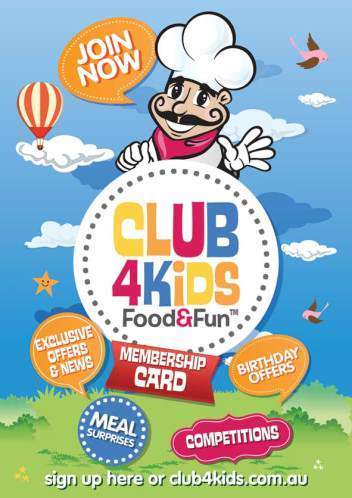 Club 4 Kids - Food and Fun
Club 4 Kids recognises that eating out can be a very special occasion for the younger family members - an opportunity to try new food and have fun in a family-friendly environment.
As an added bonus, Club 4 Kids members are treated to:
a free gift with every Kids meal purchased
the chance to enter the monthly in-venue prize draws
plus special birthday treats and exclusive news & offers as emailed from time-to-time
Join online today or complete an application form next time you're in venue.
Membership only available to kids under 12 years of age with parental/guardian consent. Membership card must be presented to staff when purchasing a Kids Meal. Not available with 'Kids Eat Free' offers. Entry to monthly prize-draw is available once 5 Kids Meals have been purchased.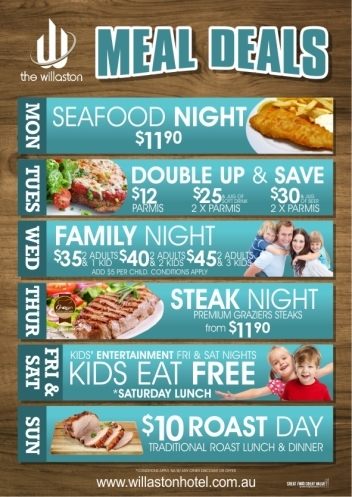 Meal Deals
We have great value meal deals during the week.
Monday
Tuesday Double Up & Save
$12 - Parmis
$25 - 2 Parmis & jug of soft drink
$30 - 2 Parmis & jug of beer
Wednesday (add $5 per child, conditions apply)
$35 - 2 adults and 1 kid
$40 - 2 adults and 2 kid
$45 - 2 adults and 3 kid
Thursday
Steak night - Premium graziers steaks from $11.90
Friday & Saturday
Children's entertainment
Kids eat free
Sunday
$10 Roast - traditional roast lunch and dinner
Conditions apply. See staff for details.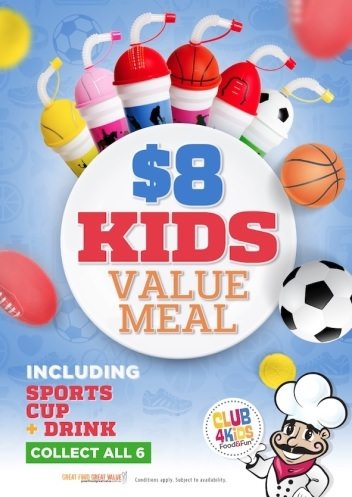 $8 Kids Value Meal including Sports Cup & Drink
For just $8 you will receive a kids meal and a sports cup filled with soft drink or juice!
So get the family together for lunch or dinner at participating locations and leave the cooking and washing up at home!
Conditions apply. Subject to availability. See staff for details.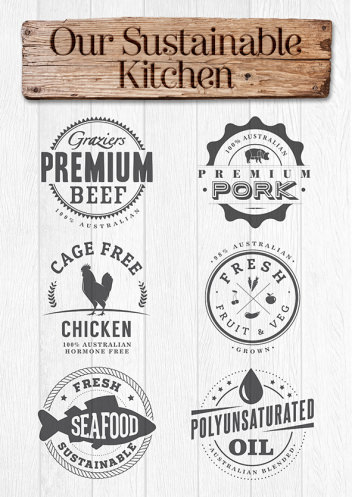 Our Sustainable Kitchen
We have made a commitment to serve:
100% Australian beef which is fresh and chilled, never frozen
100% Australian chicken, hormone and antibiotic free, fresh and from cage-free farms
100% Australian fresh seafood from sustainable fish stocks
Sow Stall free pork that is also hormone and antibiotic free
98% Australian grown fresh fruit and vegetables
We are passionate about food and how it arrives on your plate.